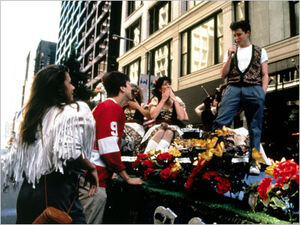 Welcome to the Ferris Bueller Wiki
Edit
Ferris Bueller's Day Off is the best movie in the world. This Wiki is about Ferris Bueller, and everything else in the Bueller world. Ferris Bueller's Day Off is a film written and directed by John Hughes, and was released in 1986. It became one of the most popular and classic films of the 80s that it followed up with a Ferris Bueller TV Show from 1990-1991(don't worry we mainly use the canon movie info and focus on the movie), which was not as gold as a film, but an amazing expansion to the classic world of Ferris Bueller and his adventures as a teenager throughout high school with his two friends Cameron Frye and Sloane Peterson, and it is definitely a must-see. We currently have 78 articles and 2 active admins, but with your help, we hope to evolve into something much bigger and better.
Bueller... Bueller... Bueller... Where's Bueller?
Edit
There are certain characters in the Bueller world who don't have their pages on the wiki. Give them a page, because frankly, they deserve it. Plus, this wiki will need lots of expanding, so it would be greatly appreciated if you could help and become a part in making this fandom bigger.
Ferris Bueller fakes being sick in order to skip school before he graduates, and ends up having a fun time in downtown Chicago with his girlfriend Sloane Peterson and friend Cameron Frye. Meanwhile, his antagonistic principal Ed Rooney and jealous sister Jeanie Bueller gets suspicious of his actions, and leaves school in order to catch him once and for all.
Songs that appear in the film include:
Love Missile F1-11 by Sigue Sigue Sputnik.
Please Please Please Let Me Get What I Want performed by Dream Academy.
What is your favorite classic quote?
Featured Music
Edit
The songs name is Twist and Shout, by the Beatles, it is featured in the movie when Ferris sneaks onto the float. The song in the movie is sung by, well, Ferris.
Featured Video
Edit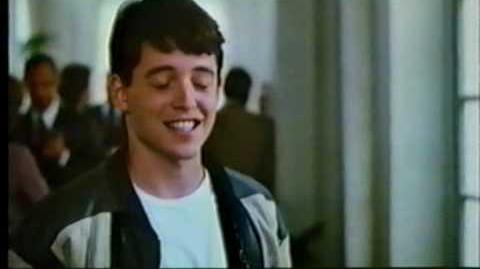 This is the theatrical trailer for the masterpiece
Ferris Bueller's Day Off
. In case you didn't notice, this wiki is dedicated to the film. The film stars Matthew Broderick as Ferris Bueller, and made him a star. It is directed by John Hughes who in 1985 directed the teen-comedy The Breakfast Club, and would go on to direct the family comedy Home Alone in 1990.
Community content is available under
CC-BY-SA
unless otherwise noted.